Stocks
Art Prints
Prints up to A4 size are offered in four high quality paper stocks: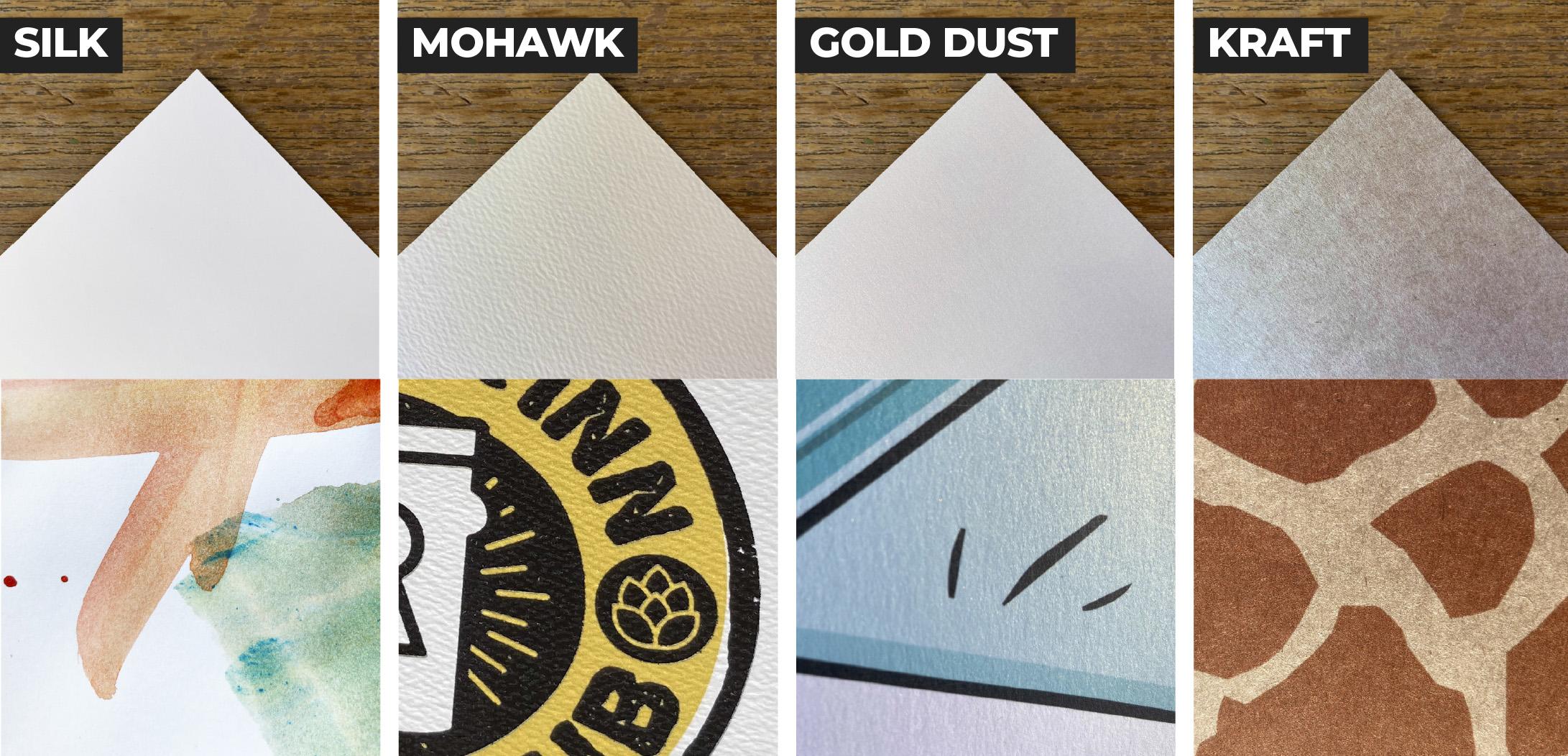 Silk Digital print standard smooth white coated paper stock with a surface sheen finish, smooth to the touch. Silk stock is halfway between glossy and uncoated, produces a silk sheen reflection rather than mirror shine. Ideal for reproducing bright vivid colour, images of high detail, flat colour sections, graphic design and illustration.

Mohawk Felt Off white textured board, substantial and tactile to the touch. Ideal for arts and crafts feel, faded and worn vintage look, traditional drawing and painting, images with areas of white space. It should be noted that the texture of Mohawk can show through your design where ink fails to completely fill the dimples. Although this is part of it's charm, very subtle colours can appear vague.
Gold Dust Premium quality iridescent pearlised stock with subtle sparkling metallic finish. Has a sheen to the light and a soft texture to the touch. Great for adding a luxurious appearance, traditional drawing and painting, delicate pen/pencil, illustration with areas of white space, flat colour sections, graphics and illustrative designs.
Kraft Smooth brown uncoated paperboard with a warm earthy tone producing a vintage feel. This stock is ideal for darker, vivid images (which dull and flatten with Kraft) to create an antique retro charm, traditional artworks in pen/pencil/paint, strong graphical designs with areas of white space. It is worth noting that colours lose their brightness on this uncoated stock as the colour effectively multiplies by the paper's brown tone. For this reason it is not recommended for delicate designs using shades of subtle colour, which will lose clarity.